Odile de Schwilgué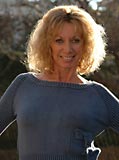 Odile DE SCHWILGUE was born in 1952 and lives in France. Graduated from Arts Décoratifs in Strasbourg, Arts Plastiques studies. Exhibits since 1974 in France, Germany and U.S.A. Participates at "Salon Jeune Peinture et Figuration Critique" at the Grand Palais in Paris.
Collector's cabinet
DE SCHWILGUE COUPLE
Le Couple, huile s/toile unique originale 79x98cm
DE SCHWILGUE BAIN DE LUNE
Bain de Lune, huile s/toile originale, unique 100x100cm
Pauline's comment
A requirement in the perfect technique of glazes, a work many times taken and fixed for eternity with the woman and the couple for perfect model ... Rare and intimate collection!