Rémy Tassou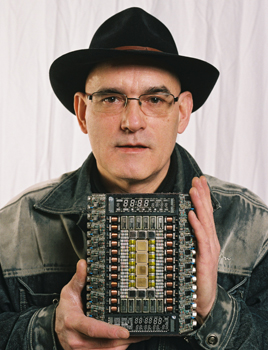 An inventor. Using materials hidden inside data-processing machines, electric and electronic articles, Tassou defines his work by the concept "cybertrash". Works consisting of wall or three dimensional sculptures, totems. Unique pieces, that tell the memory of a technology damned to obsolescence right at the origin.
Collector's cabinet
TASSOU Crunch
Crunch, cybertrash, 80x30x20cm - 48kg
TASSOU NIKON 2017
NIKON, cybertrash, 96x38x38cm - 77kgs
TASSOU NIKON 2017 DESSUS
NIKON DESSUS SCULPTURE, cybertrash, 96x38x38cm - 77kgs
TASSOU SecondLife
Second Life, cybertrash, Diam 90cm
Pauline's comment
Real genuine goldsmith of electronic components, Tassou found an important place in my gallery, next to artists he appreciates and together with them sometimes he composes very unusual and original pieces, that he calles "revisitations".
Movies