Victor Hasch (+)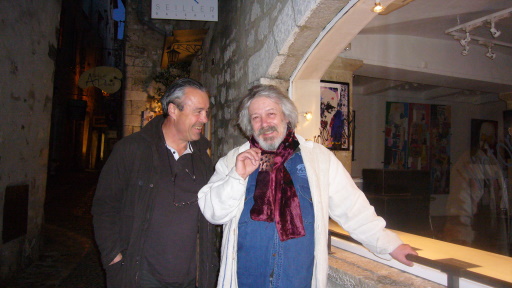 Born in 1945, Victor Hasch is present in the most important private and public collections. Excellent colourist, his paintings are explosions of colour and vigour. Unfortunately, he left this world December 14, 2012, leaving us all in trouble ....
collector's cabinet
HASCH JEAN SEBASTIEN
Saint Sébastien, Technique Mixte, 162x114cm+cadre/frame
HASCH ANDY WARHOL
Warhol, Technique Mixte, 162x114cm + cadre
HASCH BASQUIAT
J.M. Basquiat, Technique Mixte, 162x97cm + cadre
HASCH DELICABAR
Délicabar, Technique Mixte, 162x97cm + cadre
HASCH MARIE ANTOINETTE 7 CATALOGUE
M.Antoinette 7 catalogue, Huile sur toile, 162x146cm
HASCH BAL MASQUE
Bal masqué, Technique Mixte, 56x76cm + cadre/frame
HASCH BASQUIAT ELEMENTS DE LANGAGE
Basquiat Elément de langage, Acrylique, 100x81cm
HASCH GAINSBOURG
Gainsbourg_4, Technique Mixte, 100x73cm + cadre
Pauline's comment
His creativity is constant, nourished by energy and love. His paintings are generous, disconcerting, fascinating, inhabited...Fourty years of expérience, ever more demanding professional, maturity suits him...A permanent homage to him in my gallery, where art-collectors from all over the world are enthusiastic to see him back again.