Roger MÜHL (+)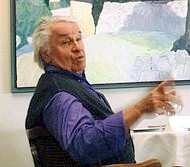 French painter, draftsman and sculptor. Roger Mühl entered the National School of Decorative Arts in Strasbourg from where he went in 1948 to go to the territory of Belfort. He moved to Montreux-Château in 1954 and made his first Parisian exhibition at the Galerie de Paris in 1960. Then in Geneva, London, Milan, Dallas, Cologne, Stuttgart, Tokyo, Kyoto, Belfort and New York. His favorite studio and residence were at the former Mougins Post Office on the Côte d'Azur.
Collector's cabinet
Le peintre et son modèle
Le peintre et son modèle , Huile sur toile, 130x97cm
Pauline's comment
"The painter and his model" is a private collection canvas of Pauline, in Saint Paul de Vence. Its dimensions 130x96cm - original oil signed lower right and dated 1950 ... he was twenty years!