Jean Claude Allenbach (+)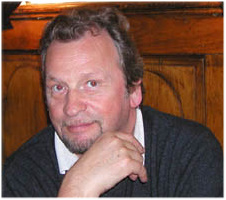 Jean-Claude ALLENBACH was born on 17. July 1947 in Colmar, Alsace. To our deepest regret he passed away before his sixtiest birthday. He became a painter in 1972 after discovering the beauty of Provence, where he stayed frequently. Landscape-painter and colourist, his palette is dominated by the brightness of the warm colours of mediterranean sceneries, filled with sunshine. He preferred oil paintings and lithographies, that were regularly shown in France, Japan and Switzerland. Many art-collectors are happy they choose his works and personally I own some master pieces.
Le cabinet Collector
Pauline's comment
His paintings are singular...the artist's eye excels in the art of capturing the essential. Without going as far as abstraction, Allenbach initiates us to discover very synthesized landscapes and flowers, where nevertheless no element is missing. The blending of colours is marvellously organized and his touch so well controlled, that there is no place for doubt. We are immediately captured by his world of reassuring and fascinating serenity. I appreciated contemplating his works silently in his company, when he gave me the honour of a visit at Saint Paul... Frequent exhibitions have been organized in his presence (see events).